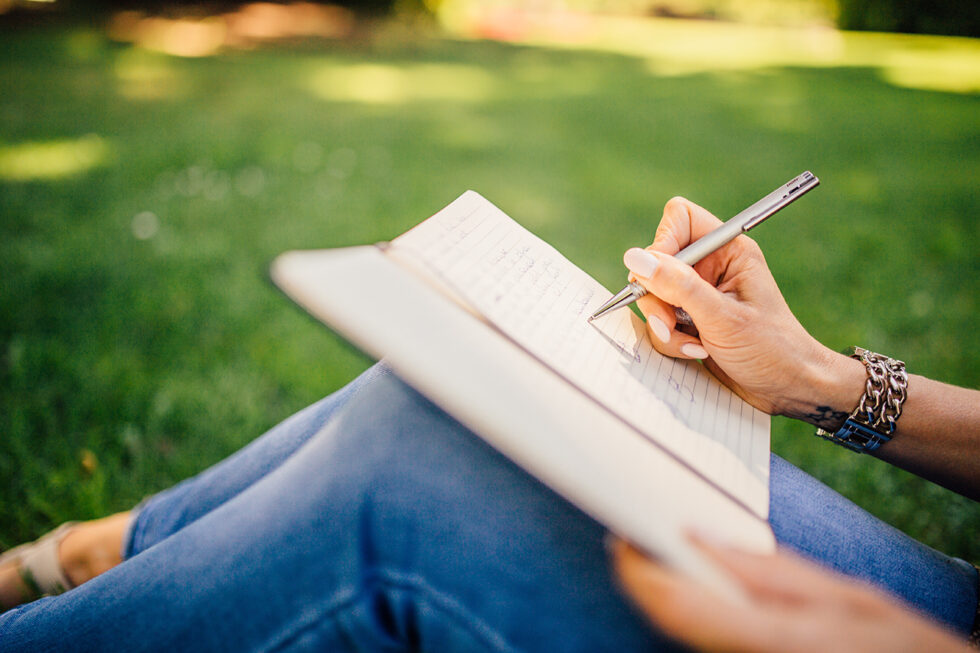 How to Start Journaling for Manifestation
The Art and Benefits of Journaling for Manifestation 
Here's how to start journaling your way to a rock-solid mindset
Journaling is all about you getting out of your head. Journaling allows you to short-circuit the hazy cycle of thoughts that are swimming around in your head, and provides an outlet where you can sort, filter and record them. Some of these thoughts will be just noise or musings that may be written and forgotten, but others will be meaningful and action-worthy once recorded, allowing you to more fully develop and explore them over time. There'll always be diamonds in the dust, and they're the ones you'll want to hold onto.
Plus, journaling might lead to you stumbling across much-awaited 'ah-ha' moments that you've been searching for – how exciting's that!
With all that said and done, the true benefits of journaling stem from the action of you thinking through and writing down your thoughts. That's what leads to greater clarity, which in turn improves your mindset. Another major benefit is that it provides a fun, creative and resourceful way to manifest your dreams, face your challenges, and explore and dismantle roadblocks. 
"I never know what I think about something until I read what I've written on it." — William Faulkner
At its core, journaling is a deeply private practice and it's unlikely to ever become a 'work product' per se, but it's still a highly valuable practice to devote your time to. Journaling can aid productivity and accelerate your personal and professional growth, helping you achieve your desired goals faster. Why? Because it moves you from thinking to doing. Even if that 'doing' only includes planning your very first step, it's still a step closer towards your goal. 
Don't take my word for it though, here are Stephen Covey's thoughts on journaling – and we all know that he's the master of productivity and a positive mindset.
"Keeping a personal journal, a daily in-depth analysis and evaluation of your experiences is a high-leverage activity that increases self-awareness and enhances all the endowments and the synergy among them." — Stephen R.Covey
Here are a few journaling prompts and ideas that you can use to conquer those common mindset roadblocks
Journaling to Build a Positive Money Mindset
Journaling can be a valuable tool in the fight against an unproductive money mindset story. By identifying money beliefs that no longer serve you, you'll be able to work towards developing a clear vision of your sexy new money story. Focus on your perfect world, think about where you want to be in 12 months time and the money story that complements your vision.  
You can do this by incorporating money story related prompts into journaling practice. This can result in achieving greater insight and clarity on any negative money mindset associations that might be holding you back. From money fears that your parents might have passed down to you through to struggles with overcoming past debt, the negative money mindset associations can span from obvious ones you're aware of through to unconscious ones. You'll need to think hard and reflect deeply to unearth any negative associations that you've been harbouring.
Once you've identified the negative stories, you can then reset your unconscious mind to work towards achieving your desired money goals. 
Even if it takes time to make the progress you're seeking, journaling about money frees you to spend your time focusing on other major goals, whilst still working on building a positive money mindset for the future in parallel.
As a business coach, one of the focus areas I work on with my client is the money mindset. Whether that's the fear of taking risks and investing in the business or pouring too much money into the project, without a clear goal in mind. I've covered money mindset extensively as part of my online offerings – if this is a topic that jumps out at you or is a mindset roadblock that's been haunting you, I strongly recommend that you explore my Create Your Sexy New Money Mindset program. To free yourself and discover the financial success you deserve, we need to get back to basics and explore it from the very start. 
Facing and Overcoming Insecurities with Journaling
Many of us are plagued with feelings of insecurity e.g I'm not good enough, what if I fail, I don't belong here, I don't deserve success. Journaling can be a great technique for working through self-limiting beliefs and the internalised roadblocks we build for ourselves.
Perhaps the most common type of insecurity is Imposter Syndrome, often presenting itself among people who don't feel as if they belong or deserve to be in a particular situation. High achievers and perfectionists are often prone to suffering from Imposter Syndrome – it wouldn't be a surprise if some of the most successful people in your life currently or have previously battled with it.
Through journaling, you can start to identify when your feelings of insecurity or Imposter Syndrome occur. Once they're noted down, you'll be able to create an action plan for acknowledging these feelings, observing them in the moment and then letting them pass quickly.
Simply acknowledging that Imposter Syndrome is a part of your life lets you recognise intrusive feelings for what they are. Feelings of insecurity may never fully go away but through journaling you can minimise their impact on your day-to-day life. Rather than letting the feelings eat away at you, you'll be able to actively acknowledge what's happening, let them pass and carry on with your day. 
Using Journaling to Conquer Productivity Roadblocks
People often joke about procrastination, but productivity roadblocks are a major cause of stress and anxiety for many. There are so many distractions all around us – scrolling your social media feeds, checking your emails, checking what snacks are in the fridge or pantry, and the list goes on. We all have our own ways of procrastinating and avoiding our to-do list. It's so easy to get distracted from the important revenue-generating, goal-oriented and self-care tasks that should be our priority. 
If you use a bullet journal (BuJo), consider making quick notes about your progress during the day and times when you're unable to be at your best. Look for patterns and find ways to set yourself in an ideal environment for success.
If you view low productivity as a major setback, start setting aside a few minutes every night reflecting on what  you think held you back during the day. Focus on the positives as well – spend a few minutes in the morning meditating and focusing on how you intend to be productive for the day. A fool-proof way to set you on a course for success is by listing the three most important tasks that you MUST finish that day. And with your tasks and daily goals clearly set out,  you'll start your workday focused and determined. 
With just a few minutes a day, you can build a rock-solid mindset
Journaling is such a powerful tool. I invite you to incorporate the practice into your life on a regular basis to identify and manifest your most creative thoughts, innermost desires, and conquer your self-limiting beliefs. It's empowering both personally and professionally, and will set you up for success in the long term. 
Just in case you are feeling some hesitation towards journaling here are some of my favourite persuasive quotes to inspire you to put pen to paper and explore how you can make journaling work for you.
"Whether you think you can or think you can't, either way you are right." – Henry Ford

"What you think you become. What you feel you attract. What you imagine you create." – Buddha

"You create your thoughts, your thoughts create your intentions and your intentions create your reality." – Wayne Dyer

"Where Attention goes Energy flows; Where Intention goes Energy flows!" – James Redfield
If you're ready to explore how you can use journaling to:
Grow your business acumen

Become a better version of yourself

Give your financial mindset a makeover

Bring your craziest, biggest business, financial and life desires to life
Then make sure to download my Journal Your Way To An Awesome Mindset freebie to get you started.